Only FMC 2020
---
Date

City

Vénissieux, France

Venue

Maison du Peuple

Address

Contact

Organizer

Only Cube

WCA Delegate
Download all the competition's details as PDF
.
Information

Pensez à consulter les onglets, en particulier celui du planning. Merci également de lire attentivement les conditions d'inscription.

---

Make sure to read the information in the tabs, especially the one with the schedule. Also, please read the registration conditions carefully.

---

Bonvolu legi la langetojn, specife la horplano. Ankaŭ, bonvolu atente legi la registriĝajn postulojn.
Events

Main event

Competitors

12
Registration period

Online registration opened and closed .

Registration requirements

This competition is over, click

here

to display the registration requirements it used.

Create a WCA account

here

if you don't have one.

If this is not your first competition, associate your WCA ID to your WCA account

here

.

Register for this competition

here

.

There is a competitor limit of 14 competitors.

The base registration fee for this competition is €2 (Euro).

Registration fees won't be refunded under any circumstance.

No on the spot registrations will be accepted.

Avant la compétition l'équipe d'organisation est susceptible de vous envoyer un ou plusieurs mails. Merci de bien vouloir répondre dans les délais, une absence de réponse pourrait nous conduire à supprimer votre inscription s'il y a une liste d'attente.

Si vous êtes adhérent AFS ou que c'est votre première compétition, l'inscription est gratuite, vous n'avez donc pas à payer en ligne, attendez tout simplement que l'on accepte votre inscription.
Plus d'informations ici.
Vous pouvez changez les épreuves de votre inscription jusqu'au début du premier tour de celles-ci.

Notez que vous resterez sur liste d'attente tant que votre inscription n'est pas valide. Si vous êtes dans le cas où un paiement est nécessaire, notez bien que vous ne pourrez quittez la liste d'attente que si votre paiement est effectué et que le nombre limite de participant·e·s n'est pas atteint (ou que quelqu'un se désiste).
Nous sommes susceptibles d'accepter des personnes sur liste d'attente après la fin des inscriptions en ligne, et ce jusqu'à la fin de l'enregistrement sur place (si par exemple des personnes se désistent après la fermeture des inscriptions).
Nous rembourserons les personnes qui seront restées sur liste d'attente après la compétition.

N'hésitez pas à faire un don lors de votre inscription pour soutenir l'AFS afin de permettre à cette dernière d'acheter et de renouveler le matériel français.

---

Before the competition, the organisation team may send you one or multiple emails. Please answer them in time. Not answering to these mails might make us delete your registration, if there is a waiting list.

If you're an AFS member or if it's your first competition, the competition is free, you don't need to pay online, just wait for us to accept your registration.
For more information, please click here (in French, please contact organizers if you have questions).
You can update events you're registered for until the beginning of the first round of these events.

You will stay on the waiting list until your registration is valid. If you are required to pay an entrance fee, please note that your registration will be eligible to leave the waiting list only if you've paid and the competitors limit has not been reached (or if someone deletes their registration).
We may accept accept registrations from the waiting list even after the end of online registrations, and until the end of on-site check-in (for instance if people remove their registration after the end of online registrations).
We will refund your registration if you did not leave the waiting list after the competition.

Do not hesitate to make a donation in order to support the AFS and allow it to buy and renew the French equipment

Highlights

Click

here

to display the highlights of the competition.
| Event | Round | Format | Time limit | Proceed |
| --- | --- | --- | --- | --- |
| 3x3x3 Fewest Moves | First round | Mo3 | 1 hour | Top 75% advance to next round |
| | Final | Mo3 | 1 hour | |
You are viewing the schedule for the venue Maison du Peuple.
The schedule is displayed in the timezone Europe/Paris.
Add to calendar
Schedule for Saturday (September 12, 2020)
3x3x3 Fewest Moves First round (Attempt 1)
Room's name
Format
Mo3
Time limit
1 hour
Proceed
Top 75% advance to next round
3x3x3 Fewest Moves First round (Attempt 2)
Room's name
Format
Mo3
Time limit
1 hour
Proceed
Top 75% advance to next round
3x3x3 Fewest Moves First round (Attempt 3)
Room's name
Format
Mo3
Time limit
1 hour
Proceed
Top 75% advance to next round
3x3x3 Fewest Moves Final (Attempt 1)
Room's name
Format
Mo3
Time limit
1 hour
3x3x3 Fewest Moves Final (Attempt 2)
Room's name
Format
Mo3
Time limit
1 hour
3x3x3 Fewest Moves Final (Attempt 3)
Room's name
Format
Mo3
Time limit
1 hour
[FR]
Si ce sera votre première compétition, voici ce que vous devez savoir :
Vous devez vous inscrire à la compétition (sur la page de la compétition, onglet "S'inscrire").
Vous n'avez pas à payer les 2€, l'Association Française de Speedcubing prend en charge votre inscription.
Il est indispensable de lire le règlement WCA (la traduction française est ici).
Nous vous invitons fortement à assister au "tutoriel" (si le planning ne contient pas de "tutoriel", celui-ci aura lieu un peu avant le 3x3)
Vous devez apporter une pièce d'identité le jour de la compétition ou nous la scanner par mail avant la compétition.
Également, nous vous recommandons de lire les tutoriels de l'AFS
---
[EN]
If it's gonna be your first competition, here's what you need to know:
You must register to the competition (tab "Register" on the competition page).
You do not need to pay the 2€ fee, the French Association will handle your registration.
You must read the WCA regulations (translations are here).
We strongly advise you to come see the tutorial (if it's not in the schedule, it will be before 3x3).
You must bring an identification paper (ID, passport, driving license) the day of the competition or scan and send it by email before the competition.
The AFS wrote some tutorials but they are in French only
---
[EO]
Se tiu konkurso estos via unua, jen kion vi devas scii:
Vi devas registriĝi aŭ ensaluti en la retejo de la WCA.
Vi devas registriĝi en la konkurso (langeto "Register" en la konkursa paĝo).
Vi ne bezonas pagi 2€, la franca asocio (Franca Asocio de Rapidkubumado) okupiĝos pri via registriĝo
Vi devas legi la regularon de la WCA
Ni rekomendegas al vi asisti la instruan momenton (tutorial) (se ĝi ne estas en la horplano, ĝi okazos antaŭ la 3x3-evento)
Vi devas kunporti identigilon al la konkurso aŭ skani kaj sendi ĝin retpoŝte antaŭ la konkurso.
La AFS verkis kelkajn instruilojn sed ili estas nur en la franca
[FR]
Vous devez prendre connaissance du règlement WCA et l'accepter. Version anglaise (la plus à jour) ou version française
Vous devez vous inscrire en ligne en cliquant sur "S'inscrire" sur la gauche de cette page. Si vous avez déjà participé à une compétition WCA et que vous n'êtes pas membre de l'AFS, votre inscription ne sera valide qu'une fois le paiement de 2€ effectué. (Les inscriptions sur place ne seront pas acceptées en raison du COVID-19)
Une pièce d'identité vous sera demandée si c'est votre première compétition.
Merci de nous prévenir par e-mail si finalement vous ne pouvez pas participer à la compétition.
---
[EN]
You must read and accept the WCA Regulations.
You must register online by clicking on "Register" in the left block. If you've competed in a WCA competition before and you're not a member of the AFS (French Speedcubing Association), your registration will be considered valid once you paid the 2€ fees. (Walk-in registrations will not be accepted because of the COVID-19)
We'll ask for an ID if it's your first competition.
Please send us an email if you cannot participate after all.
---
[EO]
Vi devas legi kaj akcepti la Regularon de la WCA.
Vi devas registriĝi enrete alklante "Register" en la maldekstra parto de tiu paĝo. Se vi jam konkursis en WCA-konkurson antaŭe kaj se vi ne estas membro de la franca asocio (AFS), via registriĝo estos konsiderata valida nur post pago de la registriĝkostoj (2€). (Surlokaj registriĝoj ne eblos pro la KOVIM-19)
Ni petos identigilon al vi se tiu konkurso estas via unua.
Bonvolu sendi retpoŝton al ni se finfine vi ne povas partonpreni.
[FR]
Conformément à la législation en vigueur en France et aux recommendations de la WCA, les mesures suivantes seront appliquées :
- Port du masque obligatoire dans la salle
- Distance d'au moins 1 mètre entre les participant·e·s pendant l'épreuve (l'équipe d'organisation fera en sorte que les places prévues respectent cela). Nous vous recommandons également de respecter autant que possible cette distanciation entre les essais
- Du gel hydroalcolique sera disponible en libre-service pendant la compétition
- Nous vous recommandons fortement de ramener votre propre stylo mais nous pourrons vous en fournir si besoin
N'hésitez pas à nous contacter si vous avez des interrogations et/ou des remarques à nous faire parvenir.
---
[EN]
In accordance with current legislation in France and the WCA recommandations, the following actions will be taken :
- masks are mandatory inside the venue
- at least 1 meter between participants (the room will be set-up by the organisation team to respect that rule). We recommend you to also respect that distance between the attempts
- self-service hydroalcoholic gel will be provided during the competition
- we strongly recommend you to bring your own pen, however we will provide one if necessary
Do not hesitate to contact us if you have questions or remarks.
---
[EO]
Konforme al la aplikataj leĝoj en Francio kaj la rekomendoj de la WCA, ni aplikos tiujn antaŭzorgojn:
- Ĉiu estas deviga surhavi maskon en la ĉambro
- Ĉiuj devas esti almenaŭ 1 metro for de aliaj homoj dum okazo de la konkursero (la organizanta teamo certigos ke la sidlokoj respektas tiun distancon). Ni ankaŭ rekomendas respektadon de tiu socia distancado kiel eble plej inter la provoj.
- Manaj seninfektigiloj disponeblos laŭvole dum la konkurso
- Ni ege rekomendas ke vi kunportu vian propran skribilon sed ni povos pruntedoni unu se bezonata
Ne hezitu kontakti nin se vi havas demandojn aŭ rimarkojn.
AFS
[FR] L'Association Française de Speedcubing rend cette compétition possible en mettant son matériel à notre disposition !
[EN] The French Speedcubing Association (AFS) makes this competition possible by providing its competition equipment!
[EO] La Franca Asocio de Rapidkubumado ebligas tiun konkurson per pruntedono de sia ekipaĵo!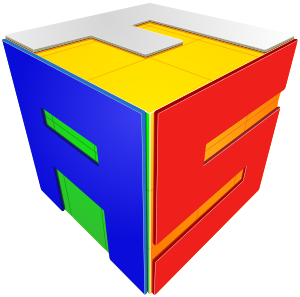 [FR]
Comment venir*
Métro Gare de Vénissieux (ligne D ou tram T4)
Puis 700 mètres à pied.
Repas
Si les conditions sanitaires le permettent, un repas à partager sur place sera proposé à midi pour moins de 10€.
Le soir, il sera également possible de partager un repas sur place ou dans un jardin à proximité si le temps le permet.
---
[EN]
How to come
Metro "Gare de Vénissieux" (line D or tram T4)
Then 700 meters on foot.
Meals
If possible, a lunch in the venue will be proposed for less than 10€.
It will also be possible to share the dinner either in the venue or in a nearby garden if the weather is good.
---
[EO]
Kiel veni
Metroo-stacio "Gare de Vénissieux" (linio D aŭ tramo T4)
Poste, estas 700 metroj for piede.
Manĝoj
Se la sanitaraj kondiĉoj permesas ĝin, surloka kumuna manĝo estos proponata por malpli de 10€.
Vespere, ni povos ankaŭ manĝi kune surloke aŭ en proksima ĝardeno, se la vetero estas sufiĉe bona.
Time limit
If you reach the time limit during your solve, the judge will stop you and your result will be DNF (see Regulation A1a4).
Format
The format describes how to determine the ranking of competitors based on their results. The list of allowed formats per event is described in Regulation 9b. See Regulation 9f for a description of each format.