Date

Nov 4 - 5, 2017

City

Porto Alegre, Rio Grande do Sul, Brazil

Venue

Address

Details

Salão Panorâmico da Sede Social da Sogipa

Organizer

André Pozzobon de Morais

WCA Delegate

Contact
Information

As inscrições poderão ser realizadas até o dia 30/10, os valores de inscrição e os dados e datas para pagamento podem ser consultados na aba "Taxa de Inscrição"
É imprescindível ter lido as regras da WCA.
O competidor poderá se inscrever em quantas modalidades desejar. Pedimos que não se inscreva nas modalidades que não possui intenção de participar.
A entrada do público para assistir ao campeonato será gratuita.

*** Os participantes das modalidades 4Bld e 5Bld deverão procurar um Juiz e avisar o Delegado no dia do campeonato
*** na hora em que quiserem realizar a sua tentativa. Não haverá sala separada para a resolução. ***
Events

Competitors

30
Registration period

Online registration opened and closed .

Registration requirements

This competition is over, click

here

to display the registration requirements it used.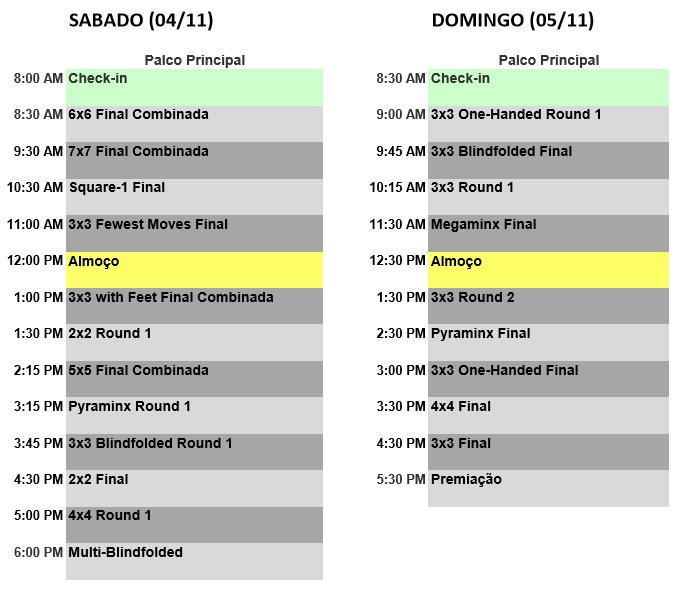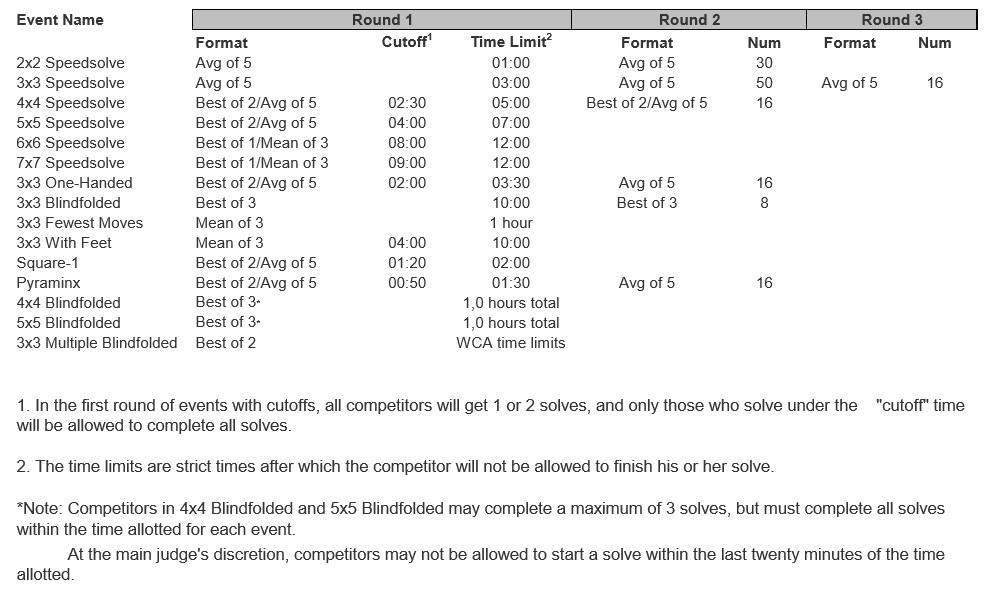 Neste ano as inscrições devem ser feitas de forma antecipada, com o valor de R$20,00, até o dia 30/10, após esta data o pagamento será somente no dia do campeonato com o valor de R$25,00, e só serão aceitas inscrições para o 3x3. Sua inscrição só será validada após a confirmação do depósito do valor na conta indicada abaixo:
Banco: Itau
Agência: 9266
Conta: 10276-4
Nome: André Pozzobon de Morais
CPF: 67854583072
*Após a inscrição favor enviar o comprovante para o e-mail: andre.pozzobon@gmail.com
Qualquer dúvida, podem enviar e-mail também.
O Campeonato irá ocorrer na SOGIPA, utilizaremos para o evento o Salão Panorâmico da Sede Social, que fica no 3º Andar.
Rua Barão de Cotegipe, 415
Porto Alegre - RS - Cep: 90540.020
Fone: (51) 3325.7200
*A Sogipa tem restaurante e lancheria dentro do clube para almoço e lanche durante o evento.
Dicas de Hospedagem:
Próximo ao local temos dois hotéis:
1. Hotel Master Express Dom Pedro II
R. Dom Pedro II, 37 - São João, Porto Alegre - RS, 90550-142
master-hoteis.com.br
(51) 2123-7800
Aprox. 200m da Sogipa.
2. Master Premium Royal
Av. Maranhão, 1061 - São Geraldo, Porto Alegre - RS, 90230-040
master-hoteis.com.br
(51) 3079-4700
Aprox. 600m da Sogipa.
Mais distantes temos outras opções:
3. Swan Tower Porto Alegre
Av. Cristóvão Colombo, 3192 - Higienópolis, Porto Alegre - RS, 90560-002
swanhoteis.com.br
(51) 3326-2222
Aprox. 900m de distância.
Time limit
If you reach the time limit during your solve, the judge will stop you and your result will be DNF (see Regulation A1a4).
Format
The format describes how to determine the ranking of competitors based on their results. The list of allowed formats per event is described in Regulation 9b. See Regulation 9f for a description of each format.