Date

Sep 23 - 24, 2017

City

Barby, France

Venue

Ecole élémentaire

Address

Details

In the School's gymnasium - Dans le gymnase de l'école

Website

Organizers

Clément Cherblanc, Didier Limal, Ilona Ansel, and Marco Giraud

WCA Delegates

Contact

Competitor Limit

70
Information

70 competitors / compétiteurs. Registration free ! Enregistrement gratuit !
Same venue as last time !
Même emplacement pour la compétitions que la dernière fois !
Events

Competitors

61
Registration period

Online registration opened and closed .

Registration requirements

This competition is over, click

here

to display the registration requirements it used.
This is a first preview of schedule, this might be edited depending on the amount of registered cubers for example.
Voici une première version du planning, celui-ci pourra être édité selon le nombre d'inscrits par exemple.
Samedi/Saturday
| Time | Event | Round | Format | Cutoff | Time limit | Pass to the next round |
| --- | --- | --- | --- | --- | --- | --- |
| 08:30-09:00 | Registration | - | - | - | - | - |
| 09:00-9:30 | Feet | Round 1 | mo3 | | cummulative limit : 15min | - |
| 9:30-10:40 | 5x5 | Round 1 | bo2/avg5 | 2:30 | 4:00 | 12 competitors |
| 10:40-11:10 | 3x3 Blindfolded | Final | bo3 | - | cummulative 10:00 | - |
| 11:10-11:50 | Square-1 | Round 1 | bo2/avg5 | 0:40 | 1:20 | 12 competitors |
| 11:50-12:40 | Lunch | - | - | - | - | - |
| 12:40-13:25 | Skewb | Round 1 | bo2/avg5 | 0:30 | 1:00 | 12 competitors |
| 13:25-14:30 | 4x4 | Round 1 | bo2 / avg5 | - | 6:00 | 75% |
| 14:30-15:15 | Pyraminx | Round 1 | bo2 / avg5 | 0:30 | 1:00 | 75% |
| 15:15-15:40 | Square -1 | Final | avg5 | - | 1:00 | |
| 15:40-16:00 | Skewb | Final | avg5 | - | 1:00 | - |
| 16:00-16:40 | 5x5 | Final | avg5 | - | 3:00 | - |
| 16:40-17:30 | Clock | Final | bo2/avg5 | 0:40 | 2:00 | - |
| 17:30-18:30 | Megaminx | Final | avg5 | - | 4:00 | - |
| 18:30-19:10 | Redi cube (unofficial event) | Final | avg5 | 0:50 | 1:30 | - |
| 19:10 - ... | Diner together ! (more informations to come) | Final | bo1 | - | - | everybody |
Dimanche/Sunday
| Time | Event | Round | Format | Cutoff | Time limit | Pass to the next round |
| --- | --- | --- | --- | --- | --- | --- |
| 08:30-09:00 | Registration | - | - | - | - | - |
| 09:00-10:00 | Rubik's cube | Round 1 | avg5 | - | 10:00 | 75% |
| 10:00-10:50 | 2x2 | Round 1 | avg5 | - | 2:00 | 75% |
| 10:50-11:40 | 3x3 One handed | Round 1 | bo2 / avg5 | 1:00 | 4:00 | 75% |
| 11:40-12:10 | Pyraminx | Round 2 | avg5 | - | 1:00 | 12 competitors |
| 12:10-13:00 | Lunch + Kilominx combined final | - | - | - | - | - |
| 13:00-13:35 | 2x2 | Round 2 | avg5 | - | 1:00 | 16 competitors |
| 13:35-14:10 | Rubik's cube | Round 2 | avg5 | - | 1:00 | 12 competitors |
| 14:10-14:50 | 3x3 One handed | Round 2 | avg5 | - | 1:00 | 12 competitors |
| 14:50-15:20 | 4x4 | Round 2 | avg5 | - | 3:00 | 10 competitors |
| 15:20-15:50 | Pyraminx | Final | avg5 | - | 1:00 | - |
| 15:50-16:15 | 3x3 One handed | Final | avg5 | - | 1:00 | - |
| 16:15-16:30 | 2x2 | Final | avg5 | - | 2:00 | - |
| 16:30-16:50 | 4x4 | Final | avg5 | - | 2:00 | - |
| 16:50-17:20 | Rubik's Cube | Final | avg5 | - | 1:00 | - |
| 17:30-18:00 | Awards | - | - | - | - | - |
Our partners are / Nos partenaires sont :
AFS (Association Française de Speedcubing / French Speedcubing Association) :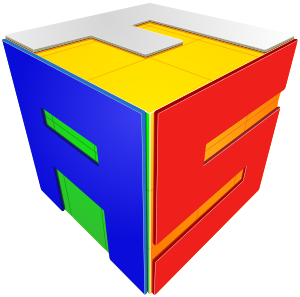 Moyu (prizes / prix) :

Registration will be possible at the venue, just come for your first event and we will register you manually. (A member of the staff)
L'inscription à la compétition même sera possible, venez simplement pour votre première épreuve et on vous inscrira manuellement. (un membre du staff)
Le kilominx était présent en tant que catégorie non-officielle, vous pouvez trouver tous les résultats détaillés, statistiques et classements ici : Page de résultats de Kilominx
Kilominx was an unofficial event at this competition, you can find all the detailled results, stats and rankings here : Kilominx Results page
Combined Final :
| # | Name/nom | Best/meilleur | Average/moyenne | WCAID | Citizen of/nationalité | | Temps | | | | |
| --- | --- | --- | --- | --- | --- | --- | --- | --- | --- | --- | --- |
| 1 | Clément Cherblanc | 17.69 ** | 21.55 * | 2014CHER05 | France | | (24.75) | 21.60 | 19.26 | (17.69) | 23.80 |
| 2 | Juliette Sébastien | 22.93 | 28.92 | 2014SEBA01 | France | | (22.93) | 30.14 | (32.44) | 28.61 | 28.01 |
| 3 | Ilona Ansel | 27.87 | 32.46 | 2016ANSE02 | France | | 29.71 | 30.09 | (47.93) | 37.17 | (27.87) |
| 4 | Grégoire Gsell | 26.35 | 35.18 | 2016GSEL01 | France | | (39.64) | (26.35) | 33.98 | 36.27 | 35.29 |
| 5 | Valentin Hoffmann | 32.89 | 38.15 | 2011HOFF02 | France | | (32.89) | 40.79 | 35.90 | (41.51) | 37.76 |
| 6 | Lucas Déglise | 40.14 | 41.61 | 2015DEGL01 | France | | 41.21 | (43.88) | 42.08 | 41.56 | (40.14) |
| 7 | Noé Bourdon | 41.23 | 48.39 | 2016BOUR01 | France | | 46.49 | (73.89) | 57.40 | (41.23) | 41.29 |
| 8 | Wilfrid Py | 34.70 | 49.22 | 2016PYWI01 | France | | (68.67) | 49.52 | 50.59 | (34.70) | 47.56 |
| 9 | Marie Vincent | 42.96 | 51.06 | 2016VINC01 | France | | 47.48 | 52.79 | 52.93 | (55.96) | (42.96) |
| 8 | Erwan Lesueur | 38.31 | 51.53 | 2016LESU01 | France | | (DNF) | 54.68 | (38.31) | 61.31 | 38.60 |
| 8 | Cenan Kanik | 41.01 *** | 52.22 *** | 2016KANI02 | Switzerland | | (55.33) | (41.01) | 51.60 | 54.24 | 50.33 |
| 8 | Yann Kull | 47.68 | 56.06 | 2015KULL01 | Switzerland | | 51.16 | (71.39) | 59.44 | 57.59 | (47.68) |
| 8 | Dimitri Wyss | 52.09 | 60.31 | 2015WYSS01 | France | | (98.96) | 54.61 | (52.09) | 58.91 | 67.41 |
| 9 | Mayron Blain | 58.04 | | 2014BLAI02 | France | | 58.04 | DNF | | | |
| 9 | Fabien Verdier | 79.12 | | 2015VERD03 | France | | 112.27 | 79.12 | | | |
| 9 | Mano Ségransan | 94.16 | | 2016SEGR01 | France | | 159.79 | 94.16 | | | |
" * " = World Record
" ** " = Continental Record
" *** " = National Record