Date

Apr 29 - May 1, 2017

City

Barby, France

Venue

Ecole élémentaire

Address

Website

Organizers

Clément Cherblanc, Didier Limal, Ilona Ansel, and Marco Giraud

WCA Delegate

Contact
Information

The limit is 70 competitors. The competition is free.
Events

Competitors

52
This is a first preview of schedule, this might be edited depending on the amount of registered cubers for example.
Voici une première version du planning, celui-ci pourra être édité selon le nombre d'inscrits par exemple.
29.04.2017
| Time | Event | Round | Format | Cutoff | Time limit | Pass to the next round |
| --- | --- | --- | --- | --- | --- | --- |
| 08:30-09:00 | Registration | - | - | - | - | - |
| 09:00-09:45 | Skewb | Round 1 | bo2 / avg5 | 0:30 | 1:00 | 75% |
| 09:45-10:15 | 3x3 Blindfolded | Final | bo3 | - | cummulative 10:00 | - |
| 10:15-11:05 | Square-1 | Round 1 | bo2 / avg5 | 0:40 | 1:20 | 16 competitors |
| 11:05-12:05 | 4x4 & 5x5 Blindfolded | Final | bo3 | - | 4x4 : cumulative 60:00; 5x5 : cummulative 80:00 | - |
| 12:05-12:35 | Lunch | - | - | - | - | - |
| 12:35-13:35 | Fewest moves attempt 1 | Final | mo3 | - | WCA | - |
| 13:35-14:55 | 5x5 | Round 1 | bo2 / avg5 | 2:30 | 4:00 | 10 competitors |
| 14:55-16:00 | 4x4 | Round 1 | bo2 / avg5 | 5:00 | 10:00 | 75% |
| 16:00-16:50 | Pyraminx | Round 1 | bo2 / avg5 | 0:30 | 1:00 | 75% |
| 16:50-17:10 | Break | - | - | - | - | - |
| 17:10-17:45 | Square-1 | Final | avg5 | - | 1:00 | - |
| 17:45-18:10 | Skewb | Final | avg5 | - | 1:00 | - |
| 18:10-18:40 | 5x5 | Final | avg5 | - | 3:00 | - |
| 18:40-19:40 | Fewest moves attempt 2 | Final | mo3 | - | WCA | - |
30.04.2017
| Time | Event | Round | Format | Cutoff | Time limit | Pass to the next round |
| --- | --- | --- | --- | --- | --- | --- |
| 08:30-09:00 | Registration | - | - | - | - | - |
| 09:00-10:00 | Rubik's cube | Round 1 | avg5 | - | 10:00 | 75% |
| 10:00-10:50 | 2x2 | Round 1 | avg5 | - | 2:00 | 75% |
| 10:50-11:40 | 3x3 One handed | Round 1 | bo2 / avg5 | 1:00 | 4:00 | 75% |
| 11:40-12:20 | Pyraminx | Round 2 | avg5 | - | 1:00 | 75% |
| 12:20-13:00 | Lunch | - | - | - | - | - |
| 13:00-13:35 | 2x2 | Round 2 | avg5 | - | 1:00 | 16 competitors |
| 13:35-14:10 | Rubik's cube | Round 2 | avg5 | - | 1:00 | 12 competitors |
| 14:10-14:50 | 3x3 One handed | Round 2 | avg5 | - | 1:00 | 12 competitors |
| 14:50-15:20 | 4x4 | Round 2 | avg5 | - | 3:00 | 10 competitors |
| 15:20-15:50 | Pyraminx | Final | avg5 | - | 1:00 | - |
| 15:50-16:15 | 3x3 One handed | Final | avg5 | - | 1:00 | - |
| 16:15-16:30 | 2x2 | Final | avg5 | - | 2:00 | - |
| 16:30-16:50 | 4x4 | Final | avg5 | - | 2:00 | - |
| 16:50-17:20 | Rubik's Cube | Final | avg5 | - | 1:00 | - |
| 17:30-18:00 | Awards | - | - | - | - | - |
| 18:00-19:00 | Megaminx | Round 1 | bo2 / avg5 | 2:00 | 4:00 | 16 competitors |
| 19:00-20:20 | 5x5 & 4x4Blindfolded | Final | bo3 | - | 5x5 : cummulative 80:00; 4x4 : cumulative 60:00 | - |
01.05.2017
| Time | Event | Round | Format | Cutoff | Time limit | Pass to the next round |
| --- | --- | --- | --- | --- | --- | --- |
| 08:30-09:00 | Registration | - | - | - | - | - |
| 09:00-09:50 | 3x3 With feet | Final | mo3 | - | 06:00 | - |
| 09:50-10:50 | 3x3 Multi-blind (#1) | Final | bo2 | - | WCA | - |
| 10:50-11:50 | Fewest moves attempt 3 | Final | mo3 | - | WCA | - |
| 11:50-12:30 | Megaminx | Final | avg5 | - | 3:00 | - |
| 12:30-13:00 | Kilominx (unofficial) | Final | bo2 / avg5 | 1:00 | 2:00 | - |
| 12:30-13:10 | Lunch | - | - | - | - | - |
| 13:10-14:10 | 3x3 Multi-blind (#2) | Final | bo2 | - | WCA | - |
| 14:10-15:10 | Clock | Final | bo2 / avg5 | 0:30 | 1:00 | - |
| 15:10-16:50 | 7x7 | Final | bo1 / mo3 | 6:00 | 10:00 | - |
| 16:50-18:10 | 6x6 | Final | bo1 / mo3 | 4:00 | 6:00 | - |
Our partners are / Nos partenaires sont :
AFS (Association Française de Speedcubing / French Speedcubing Association) :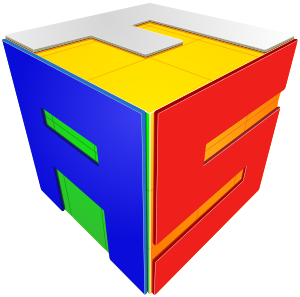 Moyu (prizes / prix) :

Le kilominx était présent en tant que catégorie non-officielle, vous pouvez trouver tous les résultats détaillés, statistiques et classements ici : Page de résultats de Kilominx
Kilominx was an unofficial event at this competition, you can find all the detailled results, stats and rankings here : Kilominx Results page
Round 1 :
| # | Name/nom | Best/meilleur | Average/moyenne | WCAID | Citizen of/nationalité | | Temps | | | | |
| --- | --- | --- | --- | --- | --- | --- | --- | --- | --- | --- | --- |
| 1 | Clément Cherblanc | 17.89 * | 24.01 * | 2014CHER05 | France | | 32.01 | (41.30) | (25.36) | 27.29 | 37.64 |
| 2 | Juliette Sébastien | 22.47 | 26.51 | 2014SEBA01 | France | | (24.69) | (DNF) | 37.84 | 28.94 | 31.10 |
| 3 | Nicolas Gertner | 24.90 | 27.52 | 2013BERT01 | France | | 37.47 | 37.17 | (29.38) | 34.31 | (40.68) |
| 4 | Grégoire Gsell | 24.44 | 30.11 | 2016GSEL01 | France | | 46.54 | (41.98) | (60.77) | 54.69 | 54.00 |
| 5 | Ilona Ansel | 39.32 | 50.35 | 2016ANSE01 | France | | 73.07 | (54.48) | (88.73) | 79.68 | (75.91 |
| 6 | Noé Bourdon | 38.62 | 50.35 | 2016BOUR01 | France | | 94.28 | 88.03 | (128.76) | (82.72) | 99.08 |
| 7 | Wilfrid Py | 49.92 | 64.79 | 2016PYWI01 | France | | 130.46 | 119.36 | 122.07 | (143.74) | (118.15) |
| 8 | Dimitri Wyss | 50.97 | 76.16 | 2015WYSS01 | France | | 200.90 | (236.36) | (104.19) | 110.66 | 123.81 |
| 9 | Thomas Lehéricy | 52.36 | 87.97 | 2016LEHE01 | France | | (DNF) | (DNF) | | | |
" * " = World Record